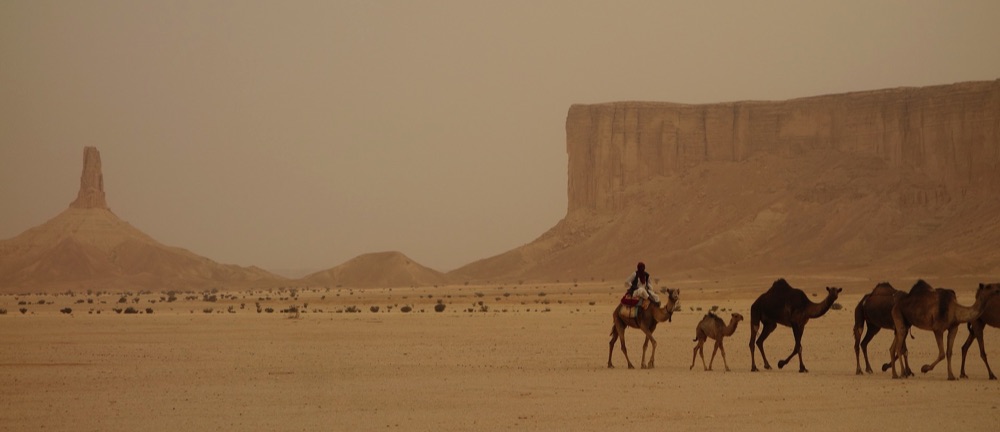 The culture of the Bedouin, which are the desert dwellers of the Middle East, is clearly depicted in the Bible on many occasions but perhaps the clearest is the telling of Abraham's reception of the angels of the Lord.

Abraham was a proper desert dweller, upon seeing strangers he ran to the them pleading with them to stay at his home and to allow him to offer hospitality. He was ready with water to wash their weary feet and with food to refresh them for the way. He insisted to his wife to make the good cakes and took the tender calf from his herd and readied it eagerly. We have been blessed so many times by so many in similar manner here in our travels and journeys, but only when you are in the East and have a child come to greet you with a pitcher of water to wash with, taken your shoes off sat on the floor and waited for the freshly killed tender animal to be readied by your host do you really get the feel of what the desert hospitality is really like. It is unhurried, taking the time to wait for the butchering of the best animal and the baking of the sweet cakes takes time after all and it is given to honor you the guest. The host stands to loose honor amongst his peers by how he receives his guest. The hostess would be shamed by her fellow women if the cakes weren't just right. The culture of the East and especially in the desert requires that if a stranger comes than he must be treated hospitably. Hebrews 13:2
"Do not neglect to show hospitality to strangers, for by this some have entertained angels without knowing it."
Similar thinking pervades in the Muslim world from the ancient Bedouin beliefs of the spirits that live in the desert and hospitality is a basic test of a man.
   Breaking bread and eating together builds an unspoken bond for those of the East, one common phrase "we have broken bread and salt together.." meaning there is something now between us that is sacred. It can't be undone and brought us nourishment. This is a bond that can't be overstated enough.
    For those of you who hope to reach out to your dear Eastern Muslim friends or even the Eastern Christian friends you might make along the way, hospitality is the key to their respect, trust and honor. When you make those steps to invite them, be ready to try to honor them in the best way you can in your situation. Some of us aren't able to invite friends to our home but here an invitation to a restaurant can also offer that hospitality. Be ready to spend some time in the act of giving. It will be remembered for you and you will have built a sacred bond.
   Not so long ago here in the USA one couldn't go by someone else's home and not be stuffed with every kind of good food and drink. My Great Grandparents come to mind especially, as not eating in their home would have broken their hearts. Hospitality is a sacred thing, an honor to your home, not a chore or hassle. What if we treated every guest at our table, every guest in our lives as sacred messengers from God? What would our table look like? How would our time be allotted?
   The Bible repeatedly entreats the Israelites to remember they were once slaves in Egypt and a command of kindness to someone less fortunate would come. We too, were once slaves and thus must remember that those who do not belong to our freedom in Christ Jesus should be given special consideration, be shown hospitality in dark days. It may be the beginning of the journey of how the "foreigner" becomes a part of the Vine!